The Hyundai Archery World Cup Final podium was decided in a lightning-fast quarterfinal, semifinal and final matchplay on Saturday, September 29th in Samsun, Turkey, where Kris Schaff and Demir Elmaagacli finished gold and silver, respectively.
In his first match, Schaff of the United States bested fellow Winner's Choice shooter and number one seed Mike Schloesser of the Netherlands in a tight 146-145 match. Elmaagacli, having received the invitational spot given to Turkey as the host country, was set to face number two seed Stephan Hansen of Denmark. While Hansen struggled to put together a solid end, Elmaagacli shot steady to a 146-134 win in the quarterfinal.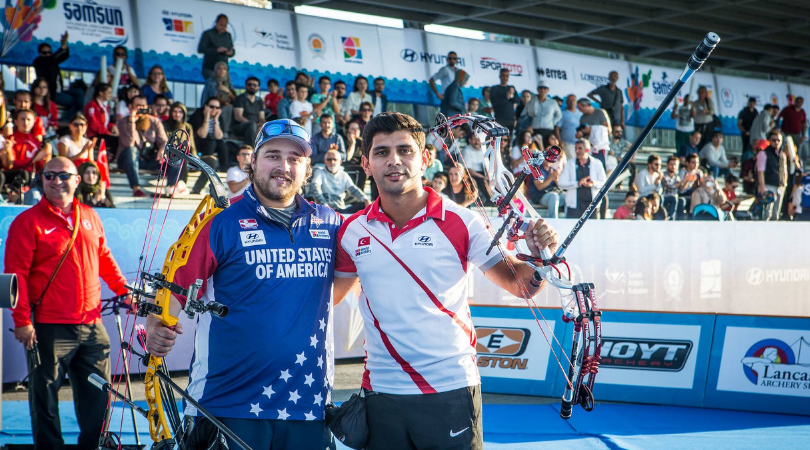 Photo via World Archery
"The sacrifices that we have seen here: dedication, labor, teamwork and that intensive process," said Elmaagacli. "While I was waiting, my eyes were full and I'm am very happy to bring this success to my country. Thank you to my family, fiancé, the Turkish Federation, national team official, all my teachers and sponsors."
With the winner from each semifinal heading to the gold medal match, Schaff and Elmaagacli prepared to face their opponents: Schaff versus Korea's Kim Jongho and Elmaagacli versus India's Abhishek Verma. The rounds were tight, with Elmaagacli topping Verma 147-145 and Schaff besting Jongho 148-147. Winner's Choice shooters Schaff and Elmaagacli would shoot off for gold.
"When you're contending with the top archers in the world and only two matches to secure a medal round, every single arrow counts," Schaff said. "Every tournament to date has been preparation for the World Cup Final and I'm thrilled to take away the win; a win achieved by shooting the world's most accurate equipment including Winner's Choice Strings."
Schaff led from the first end with an X-X-10, followed with a 10-X-10, then an off-character 10-8-10 gave way to a commanding X-10-X and final 10-10-X to seal his 2018 Hyundai Archery World Cup Championship win (148-146) over Elmaagacli.
"I'm incredibly proud of Demir and Kris for their accomplishments this year, as they continue to prove they have what it takes to remain at the top of the world's competition," said Darrin Christenberry, Winner's Choice pro staff manager. "There's something to be said about the world's most accurate strings, as not only were Demir and Kris shooting Winner's Choice at the Hyundai World Cup Final, but so were number one seed Mike Schloesser and Gizem Elmaagacli."
Build your Winner's Choice Strings by clicking this link.