Incredible shooting performances across all archery disciplines contributed to an exciting Stage 3 of the Indoor World Archery Championships in Nimes, France, where the gold medal match featured incredible performances from Winner's Choice teammates, Kris Schaff and Mike Schloesser.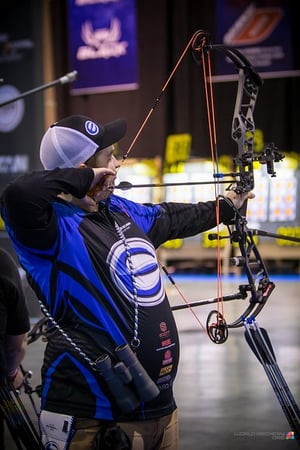 With bright Flo-Orange Winner's Choice strings, you couldn't miss the gold medal match between No. 10 seeded Schaff and No. 1 seeded Schloesser. In the exciting shoot off, Schaff bested his teammate and opponent with a final score of 147-145. Both opened with 29s over the first two ends, but Schaff put up a perfect 30 to Schloesser's 28 in the third to take the lead as they matched arrow for arrow over the final six.
"Mike is an incredible archer and has earned his outstanding reputation – it was an honor to shoot beside him in the final," Schaff said. "Ultimately, I was proud of my performance and couldn't be happier to come away with the win for my country and my team."
Winner's Choice teammates Darrin Christenberry, Reo Wilde, Logan Wilde, and fourth-place finisher Demir Elmaagacli of Turkey, among others, also trusted their strings in Nimes.
"Trusting your equipment to help you perform your best among the top competitors in the world should never be understated," said Darrin Christenberry, Winner's Choice pro staff manager. "We're proud to have gold and silver medal finishers in Schaff and Schloesser and we can't wait to see their upcoming performances this year."